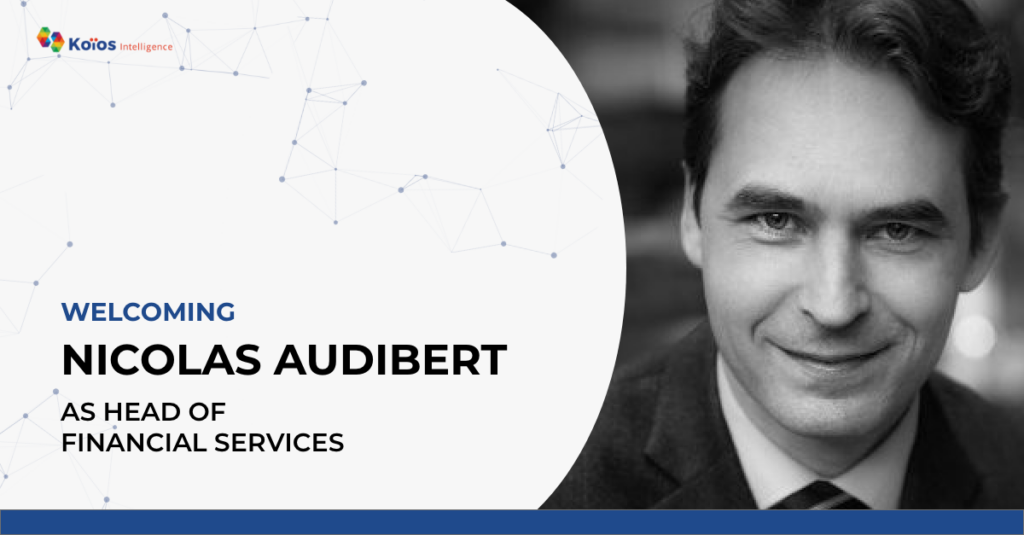 Nicolas Audibert, a recognized leader in the field of finance joins Koïos Intelligence as a Head of Financial Services

Published on October 28, 2022
Koïos Intelligence is proud to welcome Nicolas Audibert as Head of Financial Services. In this role, Nicolas will develop Koïos' strategy in key pillars such as commercial development opportunities and R&D.
Nicolas brings two decades of experience in leading Financial services teams as Risk Manager and Consultant in the banking industry, and he has led significant multi-million IT transformation programs as a Senior Business Architect. 
"We have worked hard enough and creatively in a way that allowed us to operationalize artificial intelligence and Natural Language Processing to be a future technology leader in the insurance and banking industry. In order to strengthen our footprint, we should invest in the finetuning of the business processes implemented in our platform to streamline the deployment of our platform among our Enterprise partners. Nicolas, having a lot of experience in major transformation initiatives, will help our multidisciplinary team on major projects," says M. Hanini, founder, CEO & CTO.
Indeed, launching a voice-recognition virtual assistant to manage the business processes of a conservative industry such as the insurance industry is a daunting challenge. After rolling out the app to multiple customers, Koïos could tell that today's users are in favor of such a change.
"Ten years ago, as a Risk Manager in the banking industry, I realized that business processes and IT systems' weaknesses were far more costly and risky than financial risks themselves. These issues can lead to poor quality indicators and adverse decisions. As a consequence, I started acting as a business architect in ambitious business processes and IT systems transformation programs in the banking industry. Ten years later, I am deeply convinced that recent technological capabilities improvements, including Artificial Intelligence, will revolutionise business processes efficiency. For all these reasons, I feel very fortunate to join one of the most dynamic and promising Fintech Natural Language Processing focused and to have the opportunity to build the new generation of business solutions for insurance, banking and financial industries in general," says Nicolas Audibert, Head of Financial Services.
Koïos Intelligence improves the insurance value chain across conversational AI. Their platform Olivo is built for insurance customers with the purpose of eliminating waiting time, reducing operational costs and offering an unprecedented customer experience. Based on Natural Language Processing and the state-of-the-art Artificial Intelligence, Olivo is made to respond to new customer expectations in today's digital world.
About Koïos Intelligence
Founded in 2017, Koïos Intelligence's mission is to empower the insurance and financial industry with the next generation of intelligent and customized systems that are supported by Artificial Intelligence, statistics and operational research. Combining the knowledge of our lead experts in Insurance, Finance and Artificial Intelligence, Koïos is developing new technologies that redefine the interactions between insurers, brokers and customers.
Koïos Intelligence is expanding its team and actively hiring for several roles, for more information: